INXO International Residency 2019
LOCATION: KLUANG [JOHOR, MALAYSIA]
BY NG SZE MIN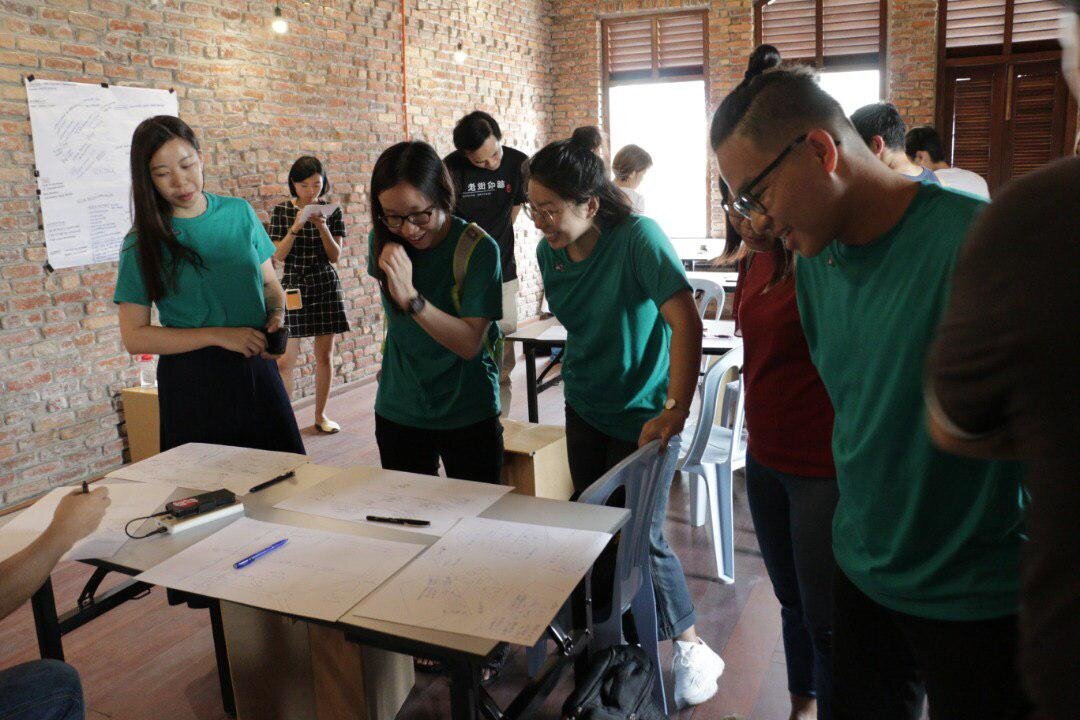 DEPARTURE
As I got my passport stamped and crossed the border on a 5-minute KTM shuttle to Johor Bahru, I noticed the contours of the island I live on.
The waters separating the two countries couldn't care less if they crashed on either shore. The boundaries between my country and the one I would live in in the next one month began to blur as I traversed from shore to shore.
UNDERSTANDING KLUANG'S MUSIC SCENE

A week into the residency, I got well acquainted with the other 5 artists and their practices. That was when the commitment came to reach a group of the Kluang community none of the artists would come into contact with: the Music scene. Following this decision, a phone call was made for me to meet one of the main players of the scene: the boss of Lemon Musical.
That evening, I stepped into a quiet shopping mall. It was emptied. Opened only for that one store I was about to visit. A shopping mall whose building exists for an instrument store?
"Hi! I'm Lemon." a chirpy chinese middle-aged man introduced himself to me. The store interior and vibes resembled the instrument shops in Singapore's Peninsula Plaza. I followed Lemon as he passed a shelf and table with leftover dinner, into a brightly lit room. There were a few guitar cases, music stands and a mic with a pop filter in the corner.
BUSINESSES IN TOWNS

Over the 20 years Lemon ran the store, he did every music related thing he could possibly offer to the town: taught music, sold instruments and even recorded demos all in this room. His latest addition would be the two jamming studios just across his store where teenagers gathered and jammed a song or two. He lamented about the quality of jammers these days: they weren't as good as before. Alluding the consequences to parents discouraging their children from pursuing such activities, the town needed something fresh.
The other phone call made for me that day was to Kluang Rail Coffee. One phone call and a table was booked for me to run a session of Stanza to Song. There, I would receive poems/writings contributed by patrons of the cafe which I would turn into song on the spot.
That week, I most appreciated the access to business owners. It seemed to me that in a town, a request was a phone call away. Forget about the emails and forms.
PROCESS AS ART

As an artist whose process is also the art work, I value audience participation and their ideas. Therefore, the workshop I was to conduct - "Writing with Sounds" was integral to the final work. Workshops allow me to access the thoughts of the locals, and receive first hand opinions of how they felt on topics I was about to explore in my work. It was the surest way of meeting them where they were and then walking that little way with them before we parted. Without which, the work would not be complete.
1. I led participants into drawing a sound map of their town. The map comprised details such as roads, buildings and places of their choice, whichever was most meaningful to them. There was no need to draw to grid.
2. Participants had to then name the types of sounds that occurred at the respective places they had on their maps.
3. Finally, I asked them to list new sounds they wanted to hear and write a creative response/story out of what they could imagine of it.
STORY OF THE COFFEE TOWN

One of the resulting creative responses was a set of lyrics by Alex Lim. Which he quickly put together and sent me the following day.
I made the decision to incorporate his text and build the final audio work around it. Through this process, Alex got to ideate with a composer and also gathered opinions from his peers and teachers about his writing.
Though he was not able to join us for the final showcase, his heartfelt thoughts were heard by many and resonated with most who came by, especially those who had the same shoes to fill: university students who were studying in other states or countries.
Most volunteers for the festival were university students who had returned during their semester break. I learnt that while they missed home and would love to return to Kluang after graduation, job prospects were better outside of the town. For this, I sensed that some of them were torn between family and dreams. The festival was important to the youth community because it brought them together again, to offer their time and strength to a town they so loved and will always call home.

ROLE AS ARTIST

My role as an artist in Kluang was to gift new experiences and validate young person's heartfelt thoughts through song and sound, nudging the young visionaries to dream a little more for what the town could be until we meet again.
Before I left, I promised that I would make the song available to all via online streaming platforms. I have since recorded and reproduced the song, it was released on 20 September 2019.
We could be on either side of the border and it didn't matter. Like water, we crash coast to coast only to find the same tunes and feelings.


Listen to Story of the Coffee Town.



Ng Sze Min was a selected artist for the INXO International Residency programme held in Kluang, Malaysia from 7 August - 1 September 2019. She lived, interacted and connected local neighbourhood, in collaboration with the community.
Workshop Participant response
【关于居銮的声音】
文 / 罗璟彤
你问我居銮有什么?我会说那是一个小城,有一座山,一条后巷,一份早餐,还有我妈念我的样子。
那天参与了<听见居銮-音乐地图工作坊>,艺术家Ng Sze Min让我闭上眼睛听居銮的声音,然后画个居銮的地图,再将各个地方的声音写上去。
下午去了独立公园,突然静下去聆听,原来独立公园不止有小孩的嬉闹声,还有喷水池滴滴答答的声音,还有很多鸟叫声,甚至还听到了孩子们荡秋千绳索摩擦的声音。
哦,对了,还有轰隆隆的雷声。
我好像来到了一个新世界,感受到了另个居銮。一种说不上来的感觉。不再只限于眼看的居銮,更是一个很丰富多姿多彩的小镇。
那居銮是什么声音?是吃早餐时听到的火车声?是南峇山里的昆虫动物叫声?我想都是吧,只要那是能让你想起居銮的声音。
鸡蛋壳敲盘子的声音,落叶被踩碎的声音,杯子底部与大理石桌的撞击,搅拌咖啡时汤匙敲着杯壁的声音,这些都是居銮的声音啊。
兩天前,非常準時的,一首屬於居鑾的歌在spotify開始流傳。
真的除了感謝,還是感謝。謝謝來自新加坡的音樂藝術家絲敏給予的機會,把我對家鄉的一些想法與看法譜成曲,帶到工作室錄製編曲後上傳至Spotify。你和工作室夥伴都辛苦了!
整首歌製作過程大概花了近兩個月,每天都帶著期待又忐忑的心等待這首歌完整的到來。9/20號的凌晨我幾乎興奮到睡不著。
這首歌裡沒有華麗的文字,單純是一些自己在這小城活了20年的故事。
前幾個post大家看到可能會覺得超傻眼,"為Kluang做一首歌,一張專輯?"
沒錯,我到現在也還是覺得很夢幻很傻眼。想法不到三個月,居鑾就有了第一首歌。衷心感謝促使這個因緣的所有人。
當然,有了第一首歌,也會有越來越多首。也希望居鑾熱愛音樂的夥伴們一起寫,一起唱,一起把想在居鑾聽到的聲音,要保留的聲音傳唱給更多的人。
在這,希望你會喜歡這首屬於居鑾的歌,也願不管在多遠地方讀書,工作的你在聽到這首歌時,會想起自己的家鄉,亦或是也到這個咖啡小城來看看,聽聽當地的故事,喝喝咖啡,聊聊是非。
我想,你也會喜歡這個小城 ——居鑾。
News Coverage:
Oriental Daily, Malaysia

Reviews:
Critics Republic
ArtsEquator

I would like to thank Cui for introducing me to the producers at INXO Arts and Culture Foundation: E-Jan, Stephanie, Low, Yen Chie. The local folks from the festival team who made the work possible, Chin Yin for her illustrations, workshop participants who inspired the work, and the committed volunteers on festival day who engaged with anyone who popped by the work: Zijian, Chin Yong, Xin Yue, Jing Wei. Mahz and Shawn for shooting great promo videos, Zai'En for the song arrangement, Michelle for proofreading this article, and of course the artists whom I had so much to learn from: Yujin, Wey Herng, Yuhei, Mahen, Mok Yee.